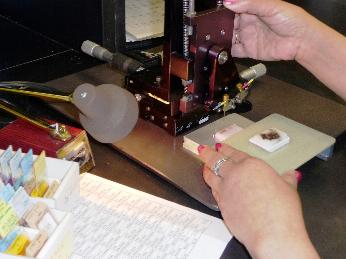 Our facility is used for the construction of tissue microarrays (TMAs). TMAs are a powerful new technology for high throughput analysis of biomarker expression in a large number of tissue samples. These samples range from human tissue specimens with clinical follow-up, animal tissues, to cell lines.
The TMA Lab has constructed 730 TMAs for 70 investigators containing 108,400 tissue cores from tumors from the prostate, breast, pancreas, gall bladder, cervix, ovary, brain, liver, urinary bladder, salivary glands, esophagus, head and neck, thyroid and various cell lines. Users have published 150 manuscripts involving JHU TMAs.
Instrumentation is available to automatically capture high resolution digital images of TMA spots and perform semi-automated quantitative image analysis. Users have access to a set of Open Source web-based software tools and backend database (TMAJ) that were developed to facilitate the all facets of research involving TMA technology from TMA design, data entry, image diagnosis, analysis, and publishing on the Internet.
Please email us at hfedor@jhmi.edu today to set up a free consultation to discuss your project. The TMA Core will provide free advice to investigators on array design. Investigators with an interest in TMA data handling beyond simple spreadsheets will have full access to our newly developed TMA database, TMAJ .